WHAT IS WATSON 388 2.5-500?
WATSON 388 2.5-500(Acetaminophen and Hydrocodone 500 mg / 2.5 mg)
Pill imprint WATSON 388 has been identified as Acetaminophen and hydrocodone bitartrate 500 mg / 2.5 mg.
Acetaminophen/hydrocodone is used in the treatment of back pain; rheumatoid arthritis; cough and belongs to the drug class narcotic analgesic combinations. Risk cannot be ruled out during pregnancy. Acetaminophen/hydrocodone 500 mg / 2.5 mg is classified as a Schedule 2 controlled substance under the Controlled Substance Act (CSA).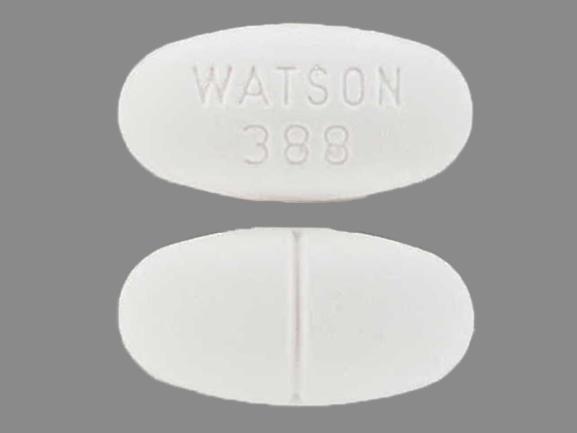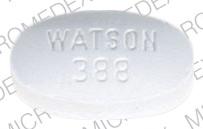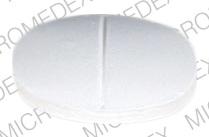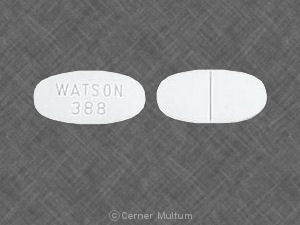 WATSON 388 2.5-500
Imprint:

WATSON 388

Strength:

500 mg / 2.5 mg

Color:

White

Shape:

Elliptical / Oval

Availability:

Prescription only
Drug Class:

Narcotic analgesic combinations

Pregnancy Category:

C – Risk cannot be ruled out

CSA Schedule:

2 – High potential for abuse

Manufacturer:

Watson Laboratories, Inc.

National Drug Code (NDC):

00591-0388

Inactive Ingredients:

lactose anhydrous
croscarmellose sodium
crospovidone
magnesium stearate
microcrystalline cellulose
povidone
corn starch
stearic acid

For the Consumer: WATSON 388 2.5-500

Applies to acetaminophen / hydrocodone: oral capsule, oral elixir, oral liquid, oral solution, oral syrup, oral tablet

In addition to its needed effects, some unwanted effects may be caused by acetaminophen / hydrocodone. In the event that any of these side effects do occur, they may require medical attention.

Major Side Effects: WATSON 388 2.5-500

You should check with your doctor immediately if any of these side effects occur when taking acetaminophen / hydrocodone:

More common: WATSON 388 2.5-500

Dizziness
lightheadedness

Incidence not known: WATSON 388 2.5-500

Back, leg, or stomach pains
black, tarry stools
bleeding gums
blood in the urine or stools
blood in vomit
bluish lips or skin
chills
choking
cough or hoarseness
dark urine
decrease in the frequency of urination
decrease in urine volume
difficult or troubled breathing
difficulty in passing urine (dribbling)
difficulty with breathing
difficulty with swallowing
fast heartbeat
fever
fever with or without chills
general body swelling
general feeling of tiredness or weakness
headache
irregular, fast or slow, or shallow breathing
light-colored stools
loss of appetite
lower back or side pain
nausea or vomiting
nosebleeds
not breathing
painful or difficult urination
pale or blue lips, fingernails, or skin
pinpoint red spots on the skin
puffiness or swelling of the eyelids or around the eyes, face, lips, or tongue
severe or continuing stomach pain
skin rash, hives, or itching
sore throat
sore tongue
sores, ulcers, or white spots on the lips or in the mouth
tightness in the chest
unable to speak
unusual bleeding or bruising
unusual tiredness or weakness
upper right abdominal or stomach pain
yellow eyes and skin

If any of the following symptoms of overdose occur while taking acetaminophen / hydrocodone, get emergency help immediately:

Symptoms of overdose: WATSON 388 2.5-500

Bloody or cloudy urine
change in consciousness
chest pain or discomfort
cold and clammy skin
decreased awareness or responsiveness
extreme drowsiness
general feeling of discomfort or illness
increased sweating
irregular heartbeat
lightheadedness, dizziness, or fainting
loss of consciousness
no blood pressure or pulse
no muscle tone or movement
not breathing
severe sleepiness
slow or irregular heartbeat
stopping of heart
sudden decrease in the amount of urine
unconsciousness
unpleasant breath odor

Minor Side Effects: WATSON 388 2.5-500

Some of the side effects that can occur with acetaminophen / hydrocodone may not need medical attention. As your body adjusts to the medicine during treatment these side effects may go away. Your health care professional may also be able to tell you about ways to reduce or prevent some of these side effects. If any of the following side effects continue, are bothersome or if you have any questions about them, check with your health care professional:

More common: WATSON 388 2.5-500

Drowsiness
relaxed and calm
sleepiness

Incidence not known: WATSON 388 2.5-500

Belching
changes in mood
difficulty having a bowel movement (stool)
fear or nervousness
feeling of indigestion
hearing loss
impaired hearing
pain in the chest below the breastbone
unusual drowsiness, dullness, tiredness, weakness, or feeling of sluggishness